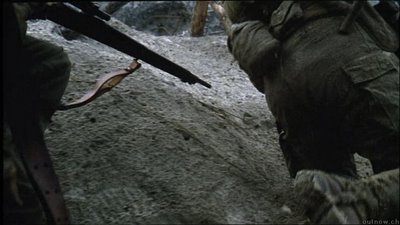 Marine
Sjoerd, terug uit Boekarest, vaart weer, als logistiek officier op een van onze marineschepen.
De eerste tocht zit er al op, en de films die ze bij zich hadden voor onderweg waren helemaal niks. Iedereen had erover geklaagd. Daarom belde hij mij: ik moest even wat titels aanbevelen. 'Forrest Gump', Sjoerds favoriet en een van de weinige films waarbij hij niet in slaap is gevallen, moest erbij zitten en 'One flew over the cuckoo's nest' ook.
,,Ik heb alles gevonden'', meldde hij maandagavond telefonisch. ,,Alleen 'One flew over the cuckoo's nest', die hadden ze niet.''
,,Ik heb hem zelf wel'', zei ik.
Dus een uur later stond hij voor de deur. In een plastic tas zaten de films die hij al had: 'Zoolander', 'Shrek', 'Black Hawk down', 'Saving private Ryan', 'Silence of the lambs', 'Mrs. Doubtfire', 'Bowfinger', 'Catch me if you can', 'Once upon a time in America' en zo voort.
Bij mij kwam daar nog 'Cuckoo's nest' bij, en ook 'The sound of music' (,,leuk voor de vrouwen'', meende Sjoerd) en omdat hij nog iets voor de vrouwen wilde 'Breaking the waves'. Degelijk spul waar je je geen buil aan valt. En fatsoenlijk is het ook, want de marine staat al zo onder vuur.
Voor Sjoerd zijn het zowat allemaal onbekende films, en omdat hij mijn vijf-luidsprekersfilmlawaaisysteem nog nooit had gehoord, draaide ik een stukje 'Saving private Ryan'. De bestorming van de Normandische kust, waarbij de kogels je om de oren fluiten.
Na een minuut of vijf zette ik hem op
pause
.
,,Zo klinkt het hier dus. Mooi he?', zei ik trots.
,,Is die hele film zo?'', wilde Sjoerd alleen maar weten. Hij klonk een beetje geschrokken.
,,Hierna wordt hij een stuk kalmer'', zei ik.
Ik hoop nu wel dat het allemaal niet te heavy is voor de marine. Gelukkig maar dat 'The sound of music' erbij zit.